Updated Grant Announcement Date is 5/27/22
Applications from CERF regions across the state are now under review by the grant administrator. Decisions are expected to be announced on May 27, 2022. (Original date was 5/20). We will take a short break from our regular Friday meetings and will reconvene on June 3, 2022 at 9:00 a.m. to discuss the application results and next steps. If you need to re-add the meeting to your calendar, please register here.
Inland Empire Region
K-16 Education Collaborative
Nearly 200 individuals representing over 60 different Inland Empire organizations have joined together to submit a unified application for the Regional K-16 Education Collaboratives Grant Program (part of the 2021 Budget Act). View the application synopsis below.
It is imperative that individuals, organizations, and existing educational collaboratives, partnerships, and consortiums throughout the Inland Empire region, continue to join arms in a unified effort improve pathways from high school to postsecondary and into the workforce across the bi-county region. Please join the discussions every Friday at 9:00 a.m. All are welcome.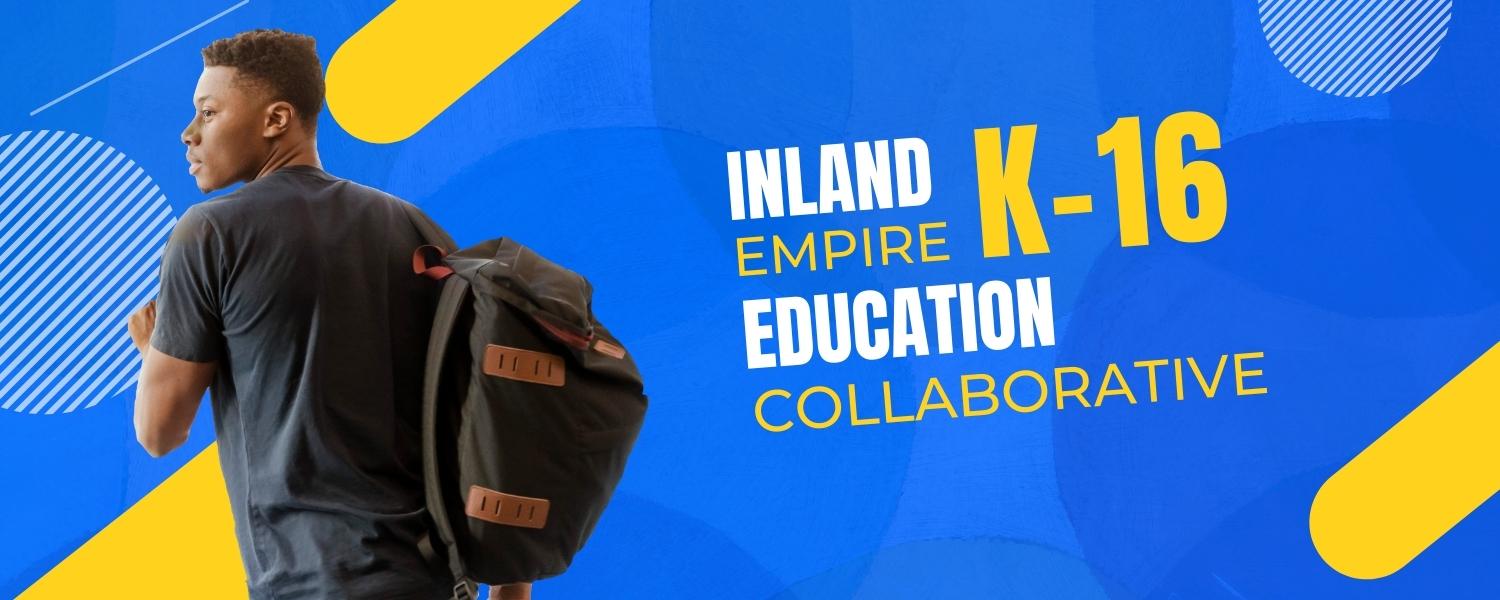 Roles of Project Partners
Since late January 2022, 60-100 partners from across the two county IE region have met on a weekly basis. This group has come together in a shared vision of moving regional collaborative efforts to improve educational outcomes in the region to the next level of ensuring students are provided with clear and thorough pathways to and through school and into viable careers. Each and every one of these partners has been instrumental in the development in the submission of this proposal.  Moving forward we will all continue to share responsibility for: 
Building a collaborative that is inclusive of all stakeholders and sub-regions in the Inland Empire, and that includes all regional consortiums and educational collaboratives supporting student success in the region.

 

Sharing experiences and best practices for pathways development. 

 

Ensuring broad and equitable representation of the region's diverse populations, geographies, and workforce opportunities.

 

Increasing the understanding of the IE students by participating in the California College Guidance Initiative (CCGI) and other data sharing initiatives.

 
The San Bernardino Community College District is serving as the lead agency for the grant application and is responsible for: 
Overall management of the process including financial, administrative and reporting requirements should the grant be funded.

 

Execution of sub-awards and contracts.

Sharing of successes with the funding agency both formally and informally.

 
Growing Inland Achievement is the convener for the work and building on its role as collective impact collaborative, is responsible for: 
Convening as many stakeholders as possible across the bi-county Inland Empire region in support of pathways for student success and economic opportunity.

 

Advocating along with others for an equitable share of funding for the Inland Empire.

 

Providing opportunities for ongoing sharing and professional development through weekly meetings and more formal in-person convenings.

 

Supporting the ongoing development and scaling of pathways with leveraged resources, technical support and professional development opportunities. 

 
Current Status (Updated Info as of 5/19)
The application has been submitted. The K-16 Regional Collaborative Grant application was submitted on May 2, 2022.
Applications from CERF regions across the state are now under review by the grant administrator. The new date for grant announcements is Friday 5/27 instead of the original date of 5/20.
With the announcement date moved to 5/27, we will extend the break for our regular Friday meetings an additional week and will reconvene on June 3, 2022 at 9:00 a.m. to discuss the results and next steps.
Application Synopsis
Inland Empire K-16 Regional Collaborative 
Application Synopsis: For the Application Submitted to the Regional K-16 Education Collaboratives Grant Program 
May 2022 
The IE K-16 Regional Collaborative submitted a proposal for $19.8M to the Foundation for Community Colleges that will support the development and scaling of 10 robust career pathway programs, located across the IE subregions, and aligned to the CERF (Community Economic Resilience Fund) region.  Collectively, these career pathway programs will address immediate and emerging needs in the education, healthcare, engineering/computing, and business sectors throughout the Inland Empire.  Building on Growing Inland Achievement (GIA)'s collective impact work, this project will deploy a regional framework that incorporates education, community, workforce, and employer engagement to support equitable educational and economic opportunities for students.   With San Bernardino Community College District serving as the lead agency and GIA as the convener, the project will use the GIA model of innovation awards to provide sub-awards, distributing approximately 85% of the funds to the region via an RFP process in early Spring 2023 and repeated in 2025. These awards will be leveraged with existing regional funds to provide technical assistance to funded projects and projects in development. 
Overarching Goals for the collaborative have been set in response to a series of regional challenges, including:  limited living-wage career opportunities; limited post-secondary preparation, persistence, and achievement; low a-g completion rates; a post-secondary attendance rate of under 60%; the lowest three-year community college completion rate in the state at 19%; frequent dropouts and stop-outs without eventual degree attainment; and a lack of meeting the needs of our diverse, low-income and underserved populations.  To battle these challenges, strategic goals are: 
Increase the number of effective career pathways in the region.

Increase the accessibility of these career pathways to ensure persons of color, first-generation, low income, and other individuals most affected by the existing barriers are more broadly represented in the region's post-secondary opportunities, and careers with sustainable family wages.

Improve the region's economic stability with a well-trained workforce, ready and able to fulfill both urgent and emerging employment needs in key industry sectors throughout the region.
Important subgoals make these broad strokes specific:  
Incorporate all four selected Recovery with Equity (RWE) recommendations in each pathway:

Cultivate Inclusive, Engaging, and Equity-Oriented Learning Environments

Retain Students through Inclusive Supports

Support College Preparation and Early Credit

Provide High-Tech, High Touch Advising

Ameliorate low educational attainment through pathway programs.

Increase business and education interagency engagement in pathways partnerships.

Improve transitions from secondary to post-secondary programs.

Develop and articulate specific pathway needs for each sector and in each subregion.
Process: To pursue these ends, a number of decision-making and working groups will be put in place by a Steering Committee. This Steering Committee will be established by September 2022 with a final composition of executive leadership from:  seven employers, CSUSB, UCR, five community-based organizations, one private college, six PreK-12 Superintendents and/or two county office of education superintendents, five community colleges, and two students. The responsibilities of the Steering Committee, meeting quarterly through 2026, will be to:  
Set goals, programmatic strategy and structure, and oversight of progress toward goals.    

Set pathway direction and allocation of resources, specifically, reviewing pathway proposals and recommendations, and making final decisions regarding which proposals will be funded.   

Provide ongoing monitoring and oversight of Recovery with Equity recommendations. 

Approve required reports to the funder.     

Appoint members and serve as a liaison to the K-16 Interagency Council.
Once formally constituted in September, the Steering Committee will, in turn, appoint the Interagency Council (IC), seated by October 2022, which is to serve as an intermediary agency between the Steering Committee and the Industry Sector Individual Pathway Groups.  The Council will be made up of regional experts in pathways development and implementation, including deans, content experts, university admissions officers, as well as representatives of collaboratives with effective pathways already in place.  In addition, community-based organization staff and employers who have had experience with pathways will also be essential participants.   
The Interagency Council will provide the hands-on expertise needed for the selection and ongoing support of the individual pathway groups.  Initial work will include an audit of existing pathways throughout the region and a thorough vetting of industry needs and opportunities for growth within the industry sectors.  The IC will develop the Request for Proposals outlining criteria for pathway submissions, including required support for Recovery with Equity (RWE) recommendations, make recommendations for awardees to the Steering Committee, monitor pathway progress toward goals, and ensure technical support assistance is provided.  
Designed by the Interagency Council, the Request for Proposals will cover all four industry sectors.  The first round of applications will be released in February and awarded in Spring 2023.  Proposed pathways may range from those already well-developed and ready for scaling to those in the beginning stages of planning.  Selection criteria will ensure that a combination of these is funded. Importantly, every proposed pathway will be evaluated on successfully addressing four Recovery with Equity recommendations designed to ensure successful pathway participation of Black, Latinx, Indigenous, first-generation, low income, and other disenfranchised populations.  Applicant groups must also be rich in student, community, and employer input and support these groups' long-term participation.   
The Individual Pathway Groups selected for funding and support will be actively involved in their pathway work, building on existing strengths, assets, and programs locally and across the region, and facing specific industry challenges.  In addition, they will be actively engaged with the community and employers and remain focused on the successful inclusion of students through equitable practices.  They will also have applied to contract with the California College Guidance Initiative (CCGI) starting in July 2022 and no later than July 1, 2023, and using the transcript-informed tools provided by CCGI, such as CaliforniaColleges.edu, as a part of the California Cradle-to-Career Data System. 
An RFP for a second round of funded pathway projects will be rereleased in 2025. By the end of this four-year project, the IE K-16 Collaborative anticipates that the development or scaling of 10 pathway groups will directly involve at least 22 school districts, 10 community colleges, and 4 four-year institutions. At full capacity, this program will serve approximately 12,000 students per year.  Further, students will have exposure to pathways programs and college opportunities throughout the CERF region.  The IE K-16 Collaborative will touch over 60,000 students and families through activities and outreach opportunities at the school and work sites, media campaigns, and technology available to students. 
The Foundation for California Community Colleges will announce awarded proposals on May 20, 2022 May 27, 2022.
Take part in weekly Inland Empire Regional K-16 Education Collaborative meetings:
Thank you to everyone involved with preparing the grant application for submission. We will be taking a short break from our regular scheduled meetings while the application is under review, and will reconvene beginning on June 3, 2022 to share the results and discuss next steps.

MEETING SCHEDULE
May 20, 2022 – 9:00 a.m. (PT)

–

No Meeting This Week (Original Grant Announcement Date)




May 27, 2022 – 9:00 a.m. (PT)

–

No Meeting This Week

  (New Grant Announcement Date)

June 3, 2022 – 9:00 a.m. (PT) – Team reconvenes to discuss application results and next steps
June 10, 2022 – 9:00 a.m. (PT)
June 17, 2022 – 9:00 a.m. (PT)
June 24, 2022 – 9:00 a.m. (PT)
All  sessions use the same Zoom meeting registration and link
Recordings and resources from recent Inland Empire Regional K-16 Education Collaborative meetings can be accessed below.