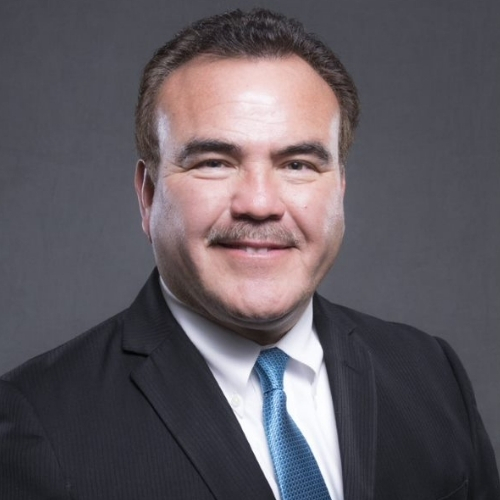 Ted Alejandre
San Bernardino County Superintendent of Schools
Ted Alejandre Biography
San Bernardino County Superintendent of Schools' Theodore "Ted" Alejandre began his four-year term as the county's 34th superintendent after being elected to office in June 2014. He ran for the county's lead educational seat unopposed in 2018 and began his second four-year term in January 2019.
With more than three decades of experience in public education, Mr. Alejandre has served in several positions at the school site and district levels including assistant superintendent of Business Services in the Yucaipa-Calimesa Joint Unified School District. He joined County Schools in 2008 as the assistant superintendent of Business Services, and later was appointed deputy superintendent, overseeing all operations of the organization.
As county superintendent, Mr. Alejandre works collaboratively with educators, families, other agencies and stakeholders to provide advocacy, leadership and services for and on behalf of more than 406,000 K-12 students attending public schools in San Bernardino County.
Mr. Alejandre is a retired U.S. Air Force Lieutenant Colonel serving since 1984. He received his associate degree in Administrative Management from the Community College of the Air Force, his bachelor's degree in Public Administration and master's in Educational Administration from Cal State University, San Bernardino.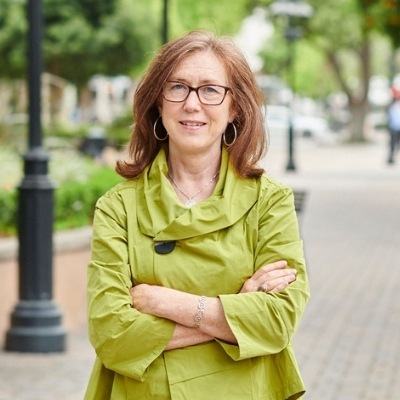 Michelle Decker
President and CEO, Inland Empire Community Foundation
Michelle Decker Biography
Michelle Decker is the President and CEO of the Inland Empire Community Foundation serving San Bernardino and Riverside Counties. She held leadership positions in community-based nonprofits for over 27 years, with a focus on community economic development, community development, and sustainability. She has also specialized in building or re-building nonprofit organizations at the local level in both urban and rural communities. All of these efforts have meant developing deep experience in partnerships and collaborations – with other nonprofits, local, state, and federal governments, and private businesses.
Prior to joining the Foundation, Michelle was the CEO of Rural Action, a membership-based community development corporation in Appalachian, Ohio, working to build a more just economy through leadership development, social enterprises and environmental restoration.  She initiated multiple social enterprises including a produce auction serving regional farmers, a Zero Waste Event Production business, and a water quality initiative with multiple higher education and natural resource partners. Michelle expanded Rural Action's national service program from 6 to 40 members. She partnered with the USFS for 10 years to undertake watershed restoration, native plant restoration, and environmental education. She collaborated with the USDA on food systems and local agricultural efforts, and with the Appalachian Regional Commission and Center for Rural Entrepreneurship, now part of LOCUS and Virginia Community Capital, to bring greater entrepreneurship potential and small businesses to towns in southeast Ohio.
Before working in Appalachian Ohio, Michelle ran Southeast Community Development Corporation in Baltimore City and helped re-build the state's community development trade association called the Asset Building Community Development Network. She worked at the Faith Fund, a faith-based CDFI, and was the first program officer for Community Economic Development at the Maryland Center for Community Development.
Today her work is focused on expanding the power of philanthropy across the Inland Empire's 27,000 square miles and extremely diverse geographies and populations. IECF was California's ACBO for Region 7 during the 2020 Census, recently hired a Director of Policy and Governmental Affairs, and is establishing the backbone function for the Inland Economic Growth and Opportunity strategy. Michelle lives with her husband Zach, also a community development professional, and their two children in Riverside.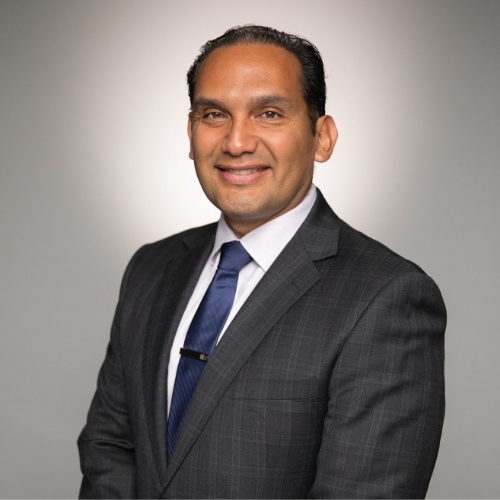 Edwin Gomez
Riverside County Superintendent of Schools
Edwin Gomez Biography
Dr. Edwin Gomez serves as the 13th Riverside County Superintendent of Schools. In his role, Dr. Gomez works with the county's 23 school districts and the staff at the Riverside County Office of Education to ensure high quality education that invests in all students while developing and sustaining strong collaborative relationships with students, teachers, parents, and the community for student success.
Dr. Gomez began his educational career teaching in grades K-8. He has served as a principal in various social-economical communities, led a school out of program improvement status, subsequently resulting in nomination for a National Blue Ribbon Award. Dr. Gomez has been a district Chief Academic Officer and served as a District Superintendent for Adelanto Elementary Schools District and Coachella Valley Unified School District. Prior to his appointment as the Riverside County Superintendent of Schools, Dr. Edwin Gomez served as the Riverside County Deputy Superintendent of Schools and as the Chief Administrative Officer of the Riverside County Office of Education, overseeing the day-to-day operations and coordinating the legislative link between the County Office and state and federal government officials.
Dr. Gomez earned his Bachelor of Arts degree in Organizational Studies from Pitzer College, his multiple subject teaching credential from the University of Redlands, and Masters of Arts and Doctorate degrees from the California State University, San Bernardino.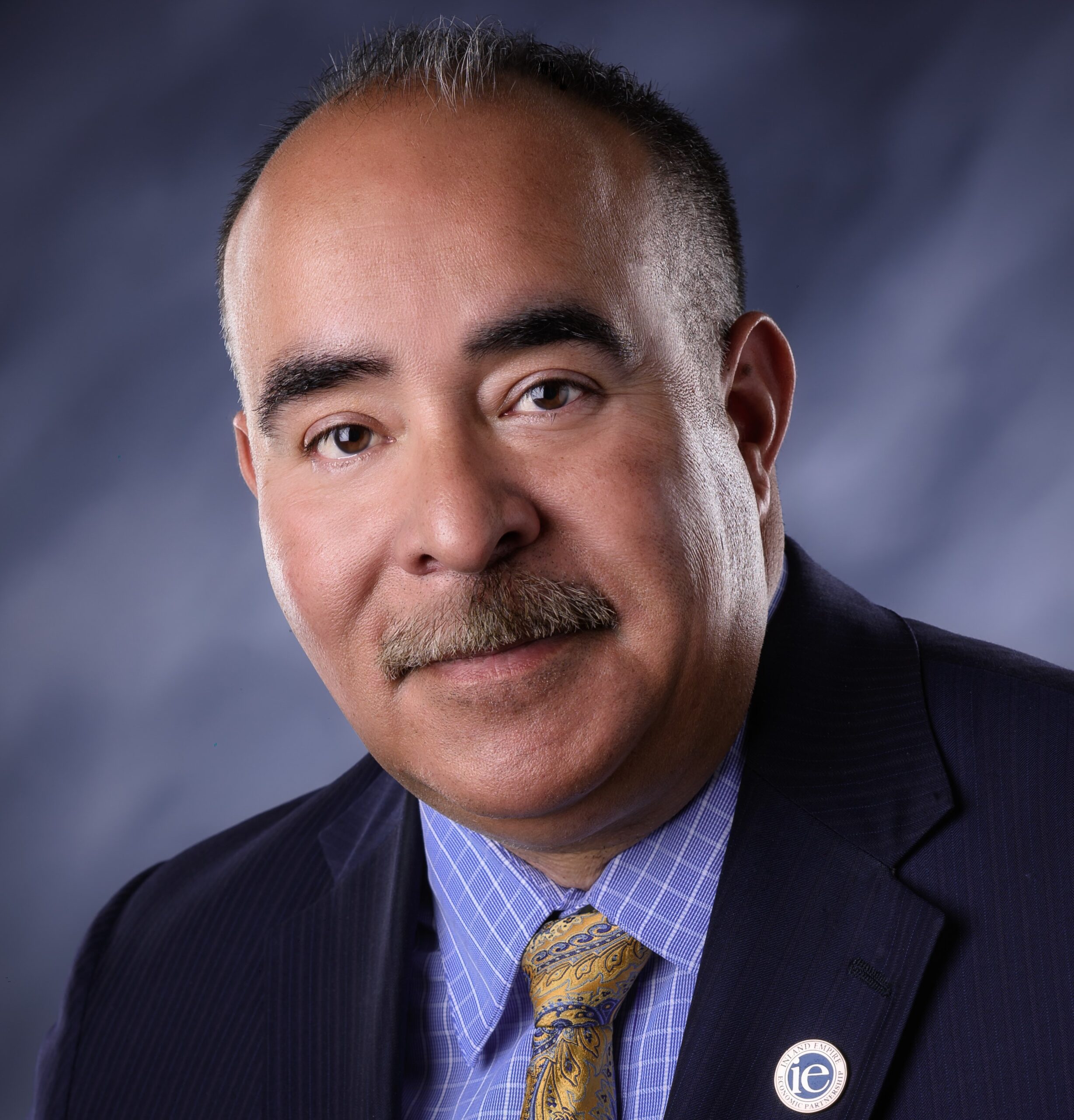 Paul Granillo
President and CEO, Inland Empire Economic Partnership
Paul Granillo Biography
Paul Granillo has served as President and CEO of the Inland Empire Economic Partnership since 2010.  During that time IEEP has become one of the most recognized statewide organizations focused on galvanizing cross sector leadership in order to build a stronger regional economy through a triple bottom line framework.
IEEP has a strong policy focus and works in Washington D.C., Sacramento and locally to insure the San Bernardino and Riverside Counties issues are well represented. Paul has also put a special focus on leadership training for the regions public and private sectors next generation.
Paul sits on many National and Statewide Boards including UnidosUS, the Regional Economic Association Leaders of California, the Campaign for College Opportunity and the Leadership Council of the Public Policy Institute of California. Paul is a board member and past Chair of Mobility 21, which is a coalition that brings together public, business and community stakeholders to pursue regional solutions to the transportation challenges facing Southern California.  He also serves on the board and is Past-Chair of the California Stewardship Network, which develops innovative regional solutions to the state's most pressing economic, environmental, and community challenges. He has also served as Past-Chair of the California Economic Summit and is a member of its Steering Committee. In 2018, Mr. Granillo was named Regional Steward of the Year by the California Economic Summit for his work on behalf of businesses and residents of the Inland Empire and was also honored for that work by the California State Legislature.
Additionally, Mr. Granillo serves on the Southern California Association of Governments Global Land Use and Economics Committee, the California State University San Bernardino Foundation, the Leonard Transportation Center, Californians Dedicated to Education Foundation and as President of the Board of Trustees of the Riverside Art Museum/Cheech Center for Chicano Art
A native of the Inland Empire, Granillo was born and raised in Redlands, California. He received a B.A. in History from California State University San Bernardino, a Master of Divinity from St. John's Seminary in Camarillo and a Licentiate in Canon Law from the Catholic University of America in Washington, D.C.
TWITTER: @IEEP_FACEBOOK: https://www.facebook.com/IEEconPartnership/
Wolde-Ab Isaac
Chancellor, Riverside Community College District
Wolde-Ab Isaac Biography
In a unanimous vote, the Riverside Community College District Board of Trustees appointed Wolde-Ab Isaac, Ph.D., chancellor of RCCD, the fifth largest community college district in the state of California with colleges in the cities of Moreno Valley, Norco and Riverside.
In making the selection, following a national search, the Board acknowledged Isaac's leadership, educational work experience and vision for the District and its three colleges. Isaac, who is currently the president at Riverside City College, will begin his job as chancellor on January 1, 2018.
"Dr. Isaac's leadership is evident in many community organizations and partnerships within our District," Tracey Vackar, Board president, said. "He embraces collaboration through shared governance with the District stakeholders and uses research-based evidence to support new initiatives."
A noted scholar and education activist, Isaac has more than 35 years of experience as an educator, faculty member and administrator. He came to RCCD in 2006 as dean of Health Science at the Moreno Valley campus. In 2012 he was named vice president of Academic Affairs at Riverside City College, and later as interim president of RCC. In 2015, he was appointed as Riverside City College's 11th president.
"Those who know my background will understand when I say that I am a perfect example of the profound truth that education is the most powerful social and economic equalizer," Isaac said. "It is with extraordinary sense of humility and honor that I accept this appointment to serve as the fourth Chancellor of the Riverside Community College District, a great and mature institution anchored in a rich history and tradition of pride and excellence. I pledge to do all I can to have RCCD be recognized as a leader, champion for student success and student equity, and thereby redeem the trust and faith bestowed on me."
A Fulbright Scholar, Isaac was born in Eritrea, East Africa, and graduated from Ethiopia's Haile Selassie University where he majored in chemistry. His graduate studies and work later took him to the University of Uppsala in Sweden, eventually returning to Eritrea to work as government secretary of Human Resources. He went on to attend the University of Michigan, earning a master's and doctoral degree in medicinal chemistry.
Isaac served as president of the University of Asmara in Eritrea from 1993 to 2006 and previously was a senior clinical researcher with AstraZeneca, a position he held for 12 years.
He resides in Riverside with his two sons, Simon, a student at UCR, and Yisak, a senior at Poly High School.​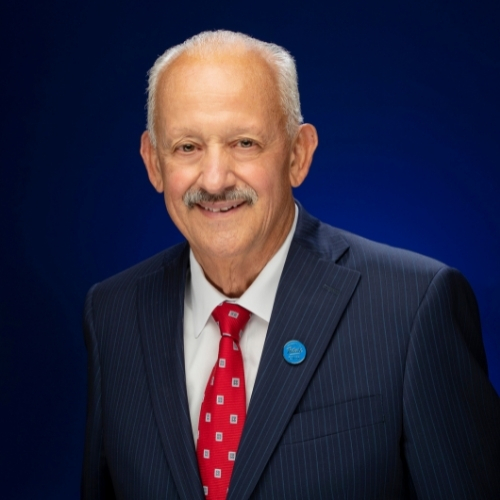 Tomás D. Morales
President, California State University, San Bernardino
Tomás D. Morales Biography
Tomás D. Morales was selected as the president of California State University, San Bernardino (CSUSB) in May 2012. He is the university's fourth president since it opened in 1965. His commitment to student success has led to various innovative summer bridge and other student and academic support services. He successfully completed CSUSB's first fundraising campaign, raising $54M while doubling the university endowment. His dedication to diversity prompted the development of the institution's unique Diversity, Equity and Inclusion Board. In addition, he spearheaded the first truly bi-county initiative to improve college attainment leading to the founding of the 501(c)(3) organization, Growing Inland Achievement, which has raised over $25M toward this goal.
Previously, Morales was president of the College of Staten Island, The City University of New York (CUNY), from 2007 to 2012.
Dr. Morales has been an active member with several national organizations. He is a previous chair of the board of the American Association of State Colleges and Universities and the governing board of the Hispanic Association of Colleges and Universities. He also served a term on the board of directors of the American Council on Education and the Executive Committee of the Coalition of Urban and Metropolitan Universities.
His lifelong dedication to improving the access and quality of public higher education has been recognized with numerous awards, including the Distinguished Leader in Education award from Education Update; the Lifetime Achievement Award in Education from the New York League of Puerto Rican Women, Inc.; Effective Leadership Golden Age Award from the Latino Center on Aging; Latino Trendsetter Award at the United Nations; the IMAGEN Certificate Award from U.S. Citizenship and Immigration Services; the Professional Achievement Award from Boricua College; the Hispanic Leadership Award from the Boy Scouts of America; the Outstanding Leadership in the Service of Youth Award by the National Honor Society at Susan E. Wagner High School; and the Louis R. Miller Award from the Staten Island Chamber of Commerce and Staten Island Advance.
Tomás and his wife Evy have been married for almost 50 years. They have three grown children and eight grandchildren.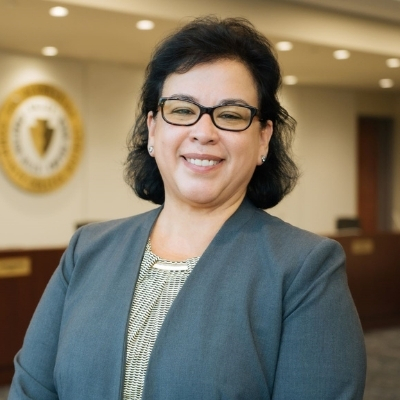 Diana Z. Rodriguez
Chancellor, San Bernardino Community College District
Diana Z. Rodriguez Biography
Diana Z. Rodriguez is the 16th chancellor of the San Bernardino Community College District — a system that serves 20,000 students through Crafton Hills College, San Bernardino Valley College, a workforce training facility, and KVCR public radio and television station. As the chief executive officer, Chancellor Rodriguez leads the district's educational enterprise that generates economic growth for the Inland Empire by adding more than $621 million annually to the regional economy. She is the only Latina chancellor of a community college district in Southern California upon assuming office in August 2021.
In collaboration with the SBCCD Board of Trustees, Chancellor Rodriguez has laid out four goals:
Promoting student academic and career success.
Nurturing a learning and working environment based on diversity, equity, inclusion, and anti-racism.
Elevating the community college district's engagement in the region.
Ensuring the district's financial health.
Like many SBCCD students, Chancellor Rodriguez is the first in her family to achieve a college education. She is a proud graduate of Palo Verde College and a transfer student to California State University, San Bernardino, where she earned a bachelor's in marketing, a master's degree in business administration, and another master's degree in education. She is a doctoral candidate in Higher Educational Leadership at Northcentral University.
Chancellor Rodriguez previously served as president of San Bernardino Valley College from July 2016 through July 2021. During her tenure, SBVC faculty and staff spearheaded educational strategies to earn the campus the highest level of accreditation — among the best in California.
Chancellor Rodriguez has a long and distinguished career of more than 30 years working in higher education as a faculty member and an administrator, advocating for student success and a strong connection to the community. Before leading San Bernardino Valley College, she served as Vice President of Student Services and Interim Vice President of Academic Services at Las Positas College in the Bay Area of California and Vice President of Student Services at Palo Verde College in Blythe.
Her accomplishments have drawn several awards, including the 2018 Woman of the Year Award for the 47th Assembly District of California.
Henry D. Shannon
Superintendent/President, Chaffey College
Henry D. Shannon Biography
Dr. Henry D. Shannon's career as a chief executive officer spans approximately 20 years in the states of Missouri and California. He currently serves as the superintendent/president of Chaffey College, a three-campus college in Southern California, which enrolls approximately 23,000 students per semester. During his tenure at Chaffey College, which began in 2007, Dr. Shannon has enhanced and transformed the college's vision to serve today's community college students, preparing them for academic and occupational success. His focus on retention and graduation yielded the nine largest graduating classes in Chaffey College history from 2012 – 2021. Dr. Shannon came from St. Louis, Missouri where he served as the chancellor of St. Louis Community College. In his 24 years at St. Louis Community College, he was also a college president and chief student affairs officer. Additionally, he served as an administrator and teacher at both St. Louis University and Harris Stowe State University.
Dr. Shannon brings to our community over 40 years of experience in higher education. He earned a master's and doctorate degree from Washington University in St. Louis, a management certificate from Harvard University, and a bachelor's degree from Harris-Stowe State University.
Henry Shannon has been active on many boards at the national, state, and local levels. His past board memberships include the League of Innovation in Community Colleges, the American Association of Community Colleges (chair 2004–2005), and the Educational Testing Service Community College Advisory Board. Dr. Shannon's current board memberships include the Alliance for Education of San Bernardino County, San Bernardino County Workforce Development Board, Growing Inland Achievement, The Community Foundation Board, California Community College Commission on the Future, California Community College Athletic Association (CCCAA), Sungard Higher Education Advisory Board, Community College Research Center Advisory Board, and Global Community College Leaders' Network (formerly Renewal and Change 20/20). He has also been a member of Phi Beta Sigma since 1966.  In 2018, Dr. Shannon was awarded the Marie Y. Martin Chief Executive Officer Award from the Association of Community College Trustees (ACCT), and in 2020 he was the recipient of the Educator of the Year Award from the Inland Empire Economic Partnership (IEEP).
Dr. Shannon is married to Gwendolyn A. Shannon. They have four adult children and ten grandchildren.
Sheila Thornton
President & CEO, OneFuture Coachella Valley
Sheila Thornton Biography
Sheila Thornton is President & CEO of OneFuture Coachella Valley.  In her previous role as V.P. of Workforce Excellence for the Coachella Valley Economic Partnership, she lead the separation and launch of OneFuture Coachella Valley as an independent nonprofit for the purpose of expanding regional efforts to align educational attainment with economic development.
Under Sheila's leadership, OneFuture Coachella Valley facilitates a coalition of education and business leaders implementing the Coachella Valley Regional Plan for College and Career Success, a five-year strategic plan to produce an educated workforce and assure Coachella Valley students are prepared for success in college, career, and life.   Since its inception, the coalition has achieved significant success on common regional goals in career academy/Linked Learning expansion, FAFSA completion and financial aid capture, scholarship giving, and community and employer engagement in support of students.
From 2001 to 2012, Sheila served as a health workforce and leadership development consultant providing project management and coalition building guidance to industry, education, and community organizations. She assisted organizations with strategic planning, mission advancement, cross-sector partnerships, grant writing and management and program implementation.   In that capacity, she lead the development of CVEP's Healthcare Industry Council, a model for aligning education and workforce strategies by sector and sub-region.  The Council expanded opportunities for low-income, disadvantaged students to succeed in Kindergarten-12th grade health career pathways programs, college health sciences programs and higher level health professions.
In her early career, Sheila served as Analyst/Project Manager for an economic research and consulting firm and Director of Community Services for a non-profit hospital.
Sheila serves on the California Future Healthcare Workforce Commission, the National Advisory Committee for Health Career Connection, the national leadership team for the Ford Motor Company Fund Next Generation Initiative, the CSUSB Palm Desert Advancement Board and the Desert Sands Unified School District LCAP Advisory Committee. Sheila received a B.S. degree in Applied Math from Loyola Marymount University.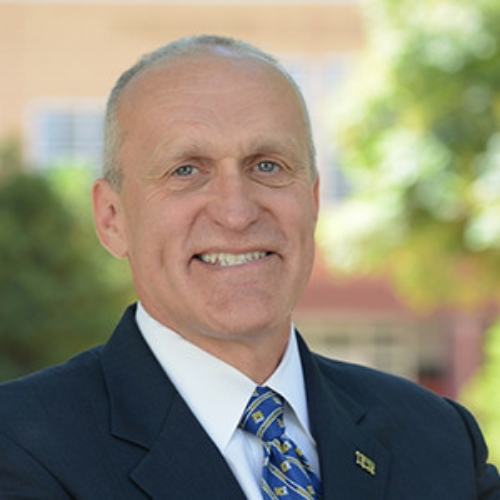 Kim A. Wilcox
Chancellor, University of California, Riverside
2022-2023 Board Chair
Kim A. Wilcox Biography
Kim A. Wilcox was appointed as UC Riverside's ninth chancellor in August 2013.
During his time at Riverside he has spurred a new era of growth, embarking on the expansion of the faculty and development of new facilities for research, teaching, and public service.
Wilcox is a long-time national advocate for increased access to quality higher education and for the particular role public universities play in the U.S. Under his leadership, UC Riverside became a charter member of the University Innovation Alliance, a collaboration of major public research universities in America seeking to improve student graduation rates and outcomes across all socio-economic and ethnic backgrounds.
Wilcox began his academic career on the faculty at the University of Missouri. He then spent 14 years on the faculty of the University of Kansas, including 10 as Chair of the Department of Speech-Language-Hearing. Immediately prior to coming to UCR, Wilcox served as provost at Michigan State University from 2005 to 2013.
He has published extensively in the area of developmental speech acoustics and has directed teaching, research, and service projects funded by the National Science Foundation and the U.S. Department of Education.
A first-generation college-going student, Wilcox matriculated at Michigan State University, where he earned a Bachelor of Arts in audiology and speech sciences. He also holds master's and doctoral degrees in speech and hearing sciences from Purdue University.