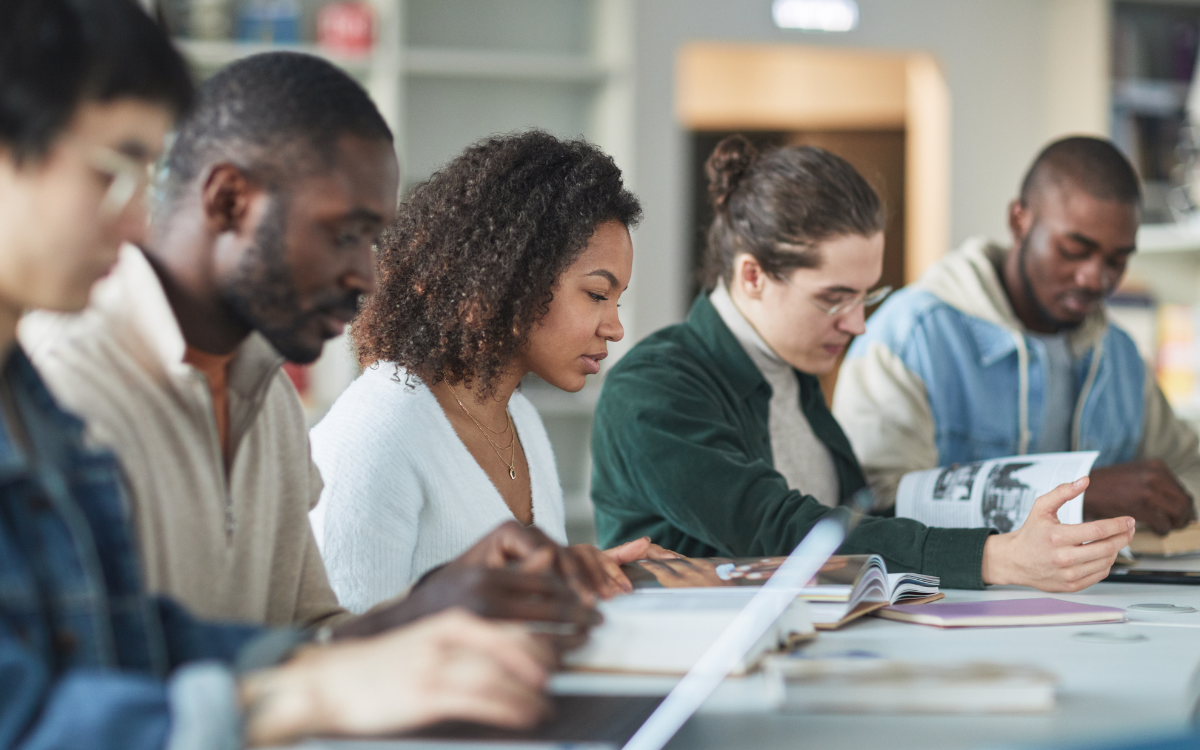 In the years leading up to the pandemic following the Great Recession of 2007, Inland Empire colleges had been experiencing steady growth culminating in the region's largest enrollment ever in Fall 2019 with over 144,000 students.1 This was in contrast to the overall rates of community college enrollment in California which had peaked in the years immediately following the recession and then remained relatively flat.  
Both the State overall and the Inland Empire are now hoping to regain their earlier enrollment momentum. In the two years following the pandemic (between Fall 2019 to Fall 2021), mirroring overall statewide declines, enrollment across the 12 regional community colleges initially fell by roughly 19%, followed by a partial recovery in year-over-year enrollment this past fall (2022). With this upswing, the total losses in community college enrollment for the IE post pandemic now stands at 12.5%. Despite wishes for an even stronger rebound after campuses began re-opening post-COVID, educators are encouraged by these trends and are cautiously hopeful regarding the prospects for the longer-term landscape of postsecondary enrollment.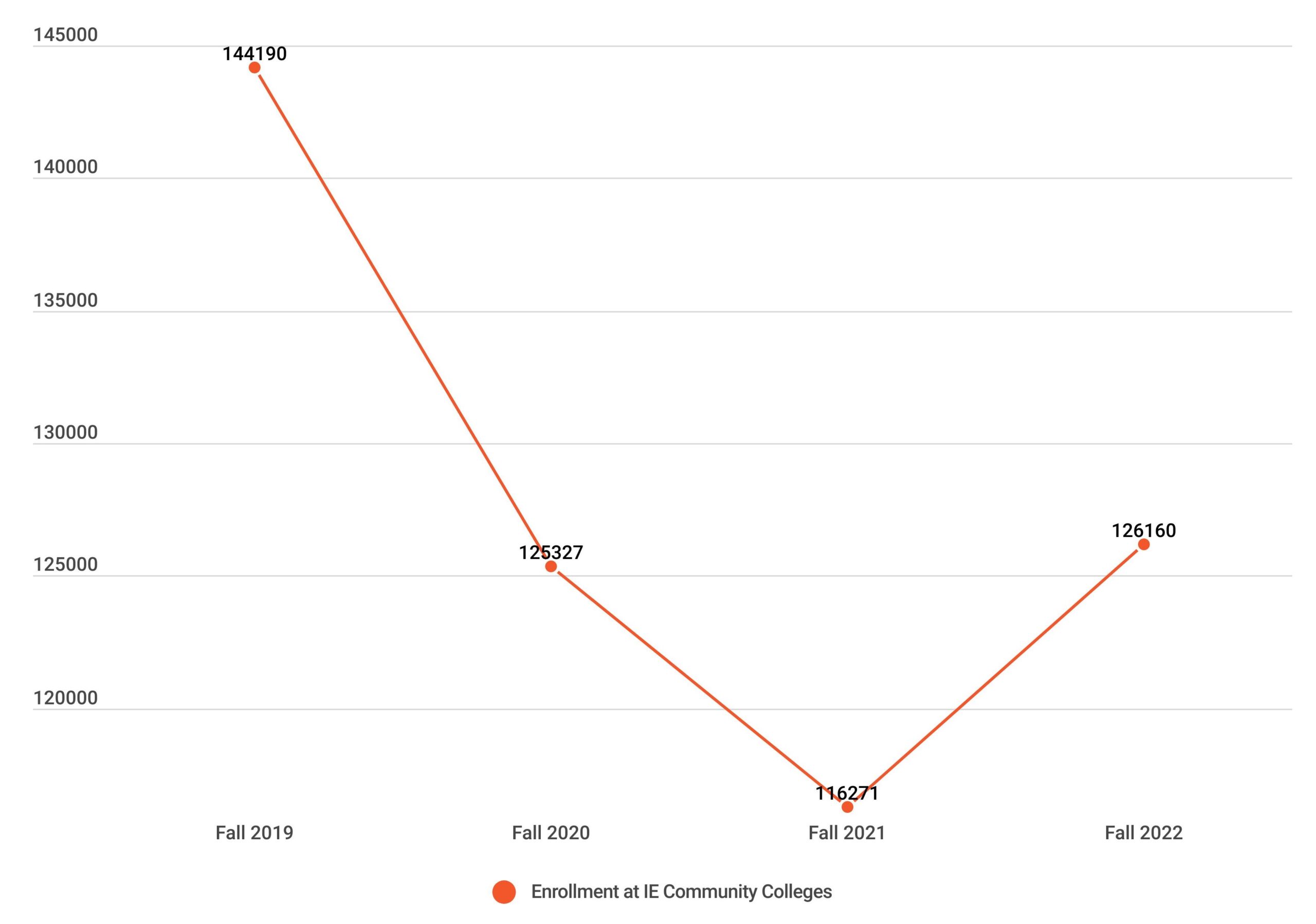 All IE community colleges have struggled with declining enrollment over the past several years, and while many showed a promising uptick in enrollment in Fall 2022 for the first time since the pandemic, most have suffered substantial overall declines compared to pre-COVID enrollment. It should be noted that only two colleges experienced no decline, both of which have relatively smaller enrollment and are geographically more isolated.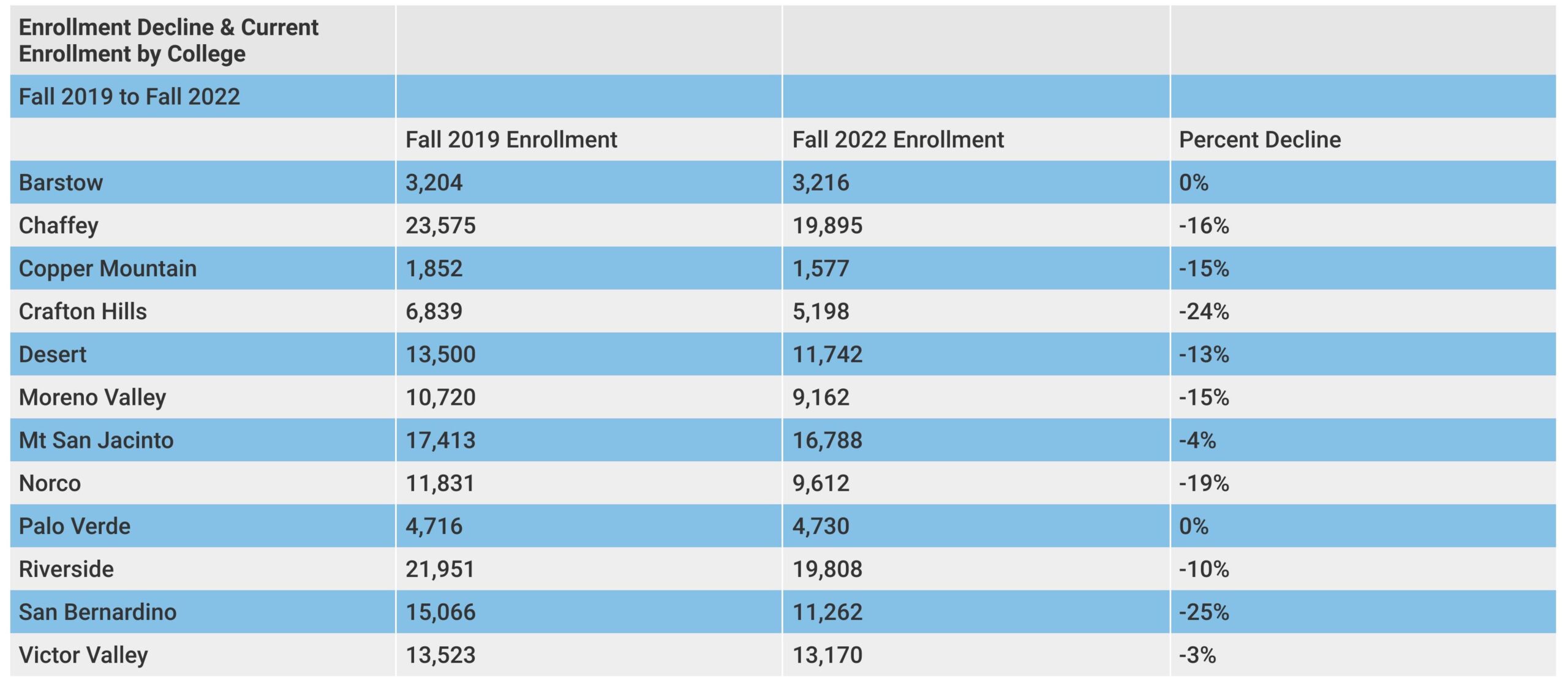 Patterns of regional enrollment losses across student groups have also varied, with the largest percentage decline observed among American Indian/Alaska Native students, followed by Pacific Islander, White, African American/Black, Hispanic, Filipino, and Asian students.

While the decline in enrollment in the past few years was slightly larger among male students overall (14% compared to 12%), these patterns were reversed within a few racial/ethnic groups, — American Indian/Alaskan Native, Pacific Islander, and white students–where we see greater enrollment losses for female students than males.  
In addition to variation across different institutions and racial/ethnic groups, enrollment declines were uneven across student age groups as well, with the biggest losses observed among students in their 20s, where enrollment declined by nearly one of every four students. It should be noted that the observed drop among students ages 19 and less would have also been greater were it not for large increases in dual enrollment observed over this same three-year time: overall enrollment of IE students aged 19 or less excluding dual enrollment (so-called Special Admits) fell by 10% from Fall 2019 to Fall 2022 (Special Admit enrollment rose from 6,926 in Fall 2019 to 10,502 in Fall 2022). 

Apart from dual enrollment, the only other student enrollment type exhibiting an increase, albeit very small, since 2019 was Returning Students, those who enroll at a college following an absence of one or more primary terms. By far the largest decline across the region was among Continuing Students, those who were both enrolled in the current session and were also enrolled in the previous one (unfortunately, while this likely reflects a drop in persistence, the fact that these numbers also include students who are not continuing due to completion of a degree, certificate, or transfer, complicates the conclusions that can be drawn from this information alone).2  
In addition to impacts on student outcomes, declining enrollments also pose a threat to long term institutional operations and capacities (such as faculty/staff, student services, etc.) due to enrollment-based funding formulas (which have been suspended until 2025).
In contrast to the community college system, undergraduate enrollment in the CSU system declined much less—enrollment between Fall 2019 and Fall 2022 was down 7% at our local CSU San Bernardino campus and actually increased by 6% systemwide;3 the UC system overall and our local Riverside campus both saw increases in undergraduate enrollment during that time frame of 2% and 4%, respectively.4 However, the enrollment changes in the community college system potentially pose additional challenges for the future higher education pipeline, since a large proportion of the student body at our local universities, particularly CSU San Bernardino, are comprised of regional community college transfer students, and this relative proportion has been increasing in the years since the pandemic—whereas only a third (33%) of CSUSB's undergraduate enrollment were comprised of community college students in Fall 2019, by Fall 2022 that number had increased to 42%.5 
While college graduates typically have higher wages and lower rates of unemployment than other workers, a recent survey conducted by the RP Group found that nearly a third of former California community college students cited jobs as a reason for not re-enrolling, perhaps in response to pandemic-related labor shortages and employer incentives; additional factors included family responsibilities and difficulties keeping up with coursework. Most did indicate an intent to return to college once they had saved enough money. GIA research on post-pandemic barriers to enrollment also suggests that many potential or former IE community college students are deeply concerned about financial stability and the costs associated with attending college and would benefit greatly from related financial aid, academic paths, and wrap-around information and support services in order to (re)connect them with postsecondary plans. These overall financial challenges are worth noting given that the California Community College system is one of the most affordable in the country and many students pay little-if any-tuition.  Steps must be taken to understand and address the broader scope of students' perceived value of college compared to their immediate needs.
Whether these enrollment trends will continue, stabilize, or reverse will become clearer as we observe the unfolding economic circumstances shaping student decisions as well as continue to monitor regional postsecondary enrollment trends. It is heartening that most of the students in the RFP study indicated interest in returning and expressed a willingness to be contacted by their local colleges. As we move forward with outreach to these and other students, it is important for both our local and state educational leaders to be cognizant of these many factors affecting the Inland Empire students and families. The academic, social-emotional, and economic effects of the pandemic will not be resolved overnight and navigating a path to pre-pandemic enrollment will require ongoing flexibility and adaptation to a new educational environment. No matter what, navigating a path to pre-pandemic enrollment will pose a tremendous challenge to higher education leaders regionally and beyond.