October 1 marked the start of the financial aid application period for the 2023-2024 school year. The Free Application for Federal Student Aid (FAFSA), California Dream Act Application (CADAA), and Chafee Grant for Foster Youth (CHAFEE) are now open for submissions.
With FAFSA completion being one of the strongest predictors of postsecondary enrollment, it is one of the most critical things we can collectively support to boost Inland Empire student success and economic mobility.
Inland Empire leaders have urged Inland Empire high schools to reach 90% annual FAFSA completion rates by 2026. The region has made progress—last year, 52% of our Inland Empire high school seniors applied for aid—yet there is still much work to do to achieve our regional 90% completion goal.
GIA is excited to announce that we recently became the official California Cash for College Regional Coordinating Organization (RCO) for the Inland Empire. Our staff has been busy scheduling workshops at high schools throughout the region to support Inland students with FAFSA, CADAA, and CHAFEE applications. We will also provide several train-the-trainer sessions where partners can become official C4C host organizations.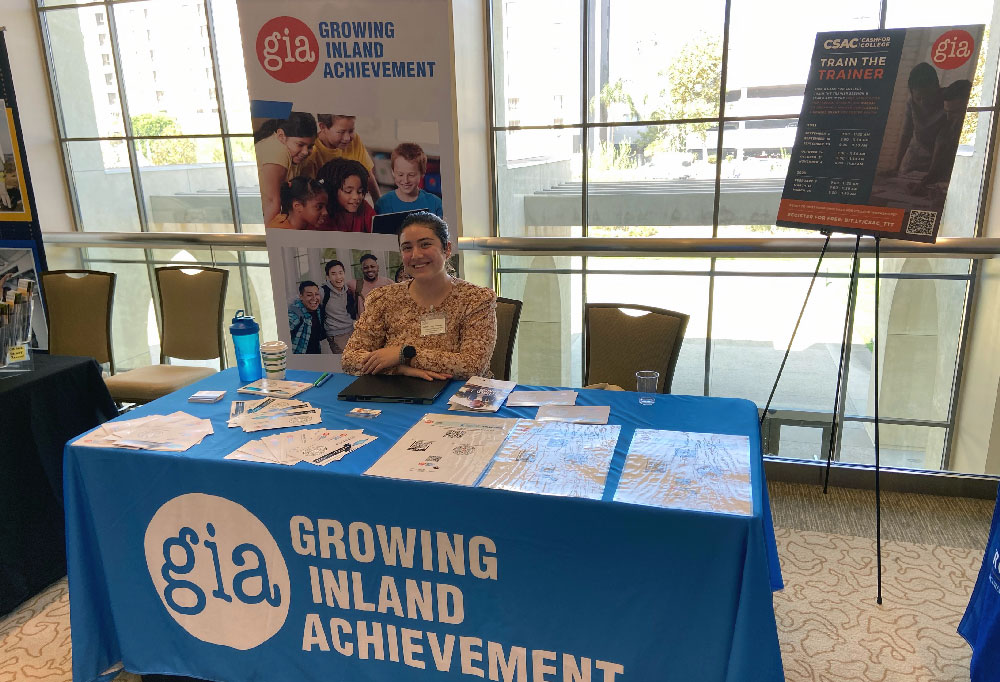 GIA employee, Julissa Loza Mendez, at an event promoting Cash for College resources
We need help from the entire Inland Empire educational network to increase application numbers and get more money into the hands of our students to pursue their college dreams. Here are three ways that you can help right now:
1. Consider hosting a workshop at your organization. Please contact Julissa Loza Mendez, Coordinator of Network Engagement, at [email protected].
2. Volunteer to help at a C4C workshop. GIA needs several volunteers to assist with upcoming regional C4C events at our local high schools.
3. Use this social media toolkit from the California Student Aid Commission (CSAC) to help promote financial aid opportunities through your student-facing channels.
Thank you for your support. #GIATogether #FinancialPaid